Description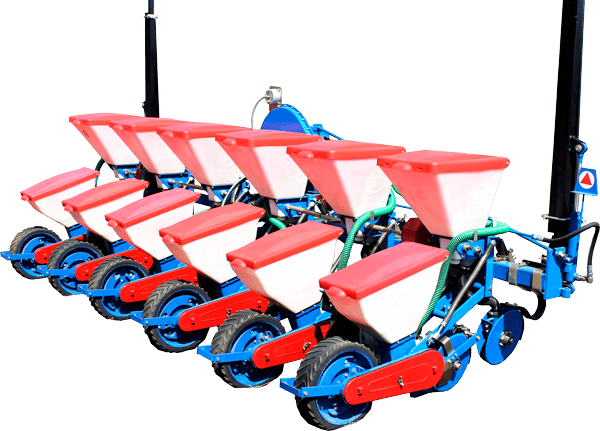 The SPP DF precision pneumatic seed drills are designed for planting in nests, beans, at a certain distance adjustable between them. The set of dispensing discs allows the sowing of corn, sunflower, peas and other crops with similar seeds in shape and size, ranging from 45 to 70 cm in length. SPP DF seeders are equipped with a double discs and a device for soil fertilizers.
Advantages of double discs coulter planters: The duble disc coulter is a technological innovation in the agricultural machinery market,
During work, no vegetal debris is collected, the duble disc coulter contributes to shredding,
The double disc coulter guarantees efficient sowing, regardless of the quality and soil preparation,
Active organs are wear-resistant because they are made of thermally treated steels,
Plant uniform planting, seeds fall into the wet soil.
Gauge control and adjustable vacuum pressure of flue
Destination vacuum pressure gauge is enable to the flue that depending on the cultures,seeds size and other parameters to be possible to adjust vacuum pressure. The range of adjustment, from 0 to -10 kPa.
Electronic control system
The electronic control system consist of onboard computer wich is connected to external indicators and are installed at seeders.
Control parameters:
Speed of shift,
Operation of each section,
Density of seeds in a row,piece/m.,
Actual histogram distribution of seeds in each row,
Number of seeds in ha.,
Dublications and omissions.