Description
Easy disc harrow GDU is used for processing different types of soil, after harvesting different types of crops, processing the soil after plowing, processing soil between the rows of vineyards and orchards and soil preparation for sowing.
Construction
GDU is produced in several models, differing by the working width and type of coupling to tractor:
Trailed – Fig.1;

Carrying – Fig.2.
Switching from the transport position into working position and reverse is made through the hydraulic system mounted on trailed GDU (Fig.1) and through the force cylinder of coupling system of the tractor, for carrying GDU (Fig.2).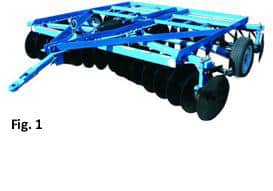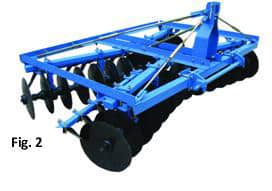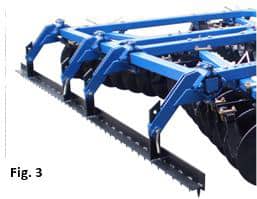 It is formed from 4 discs batteries positioned X-shaped. At the consumer's request, harrow can be equipped with both, smooth or serrated discs, or can be mounted in a mixed way, smooth in the back side and serrated in front or vice versa.
In order to improve the processing, in rear side of the harrow is mounted a bar with teeth which is responsible for crushing the lumps and smoothing the layer surface (Fig.3).
Settings:
Angle of attack. Angle of attack can be varied within the limits from 0 to 18º. By changing the angle of attack we also change the working depth. By adjusting the angle of attack to the maximum we'll receive the maximum working depth. Angle of attack is controlled in part for each battery, through the mounting holes located on the sides of the frame.