Description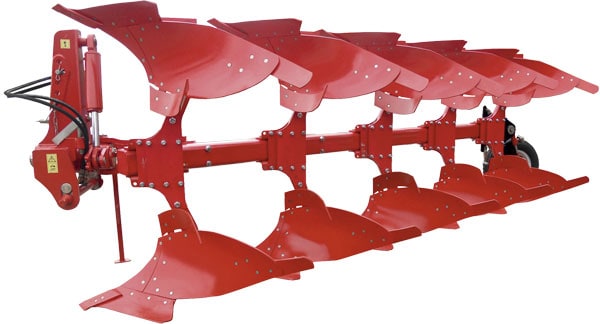 Reversible plows of type PR(PO) are intended to plowing soil at a depth of up to 30 cm. PR(PO) series is a new generation of plows which are produced by JSC Moldagrotehnica. These plows respond to the last requirements of market: safe, effective and easy at adjustments.
Plows of model PR(PO) are characterized by:
Effective return of the furrow,
Effficiency clogging of plants debris,
Low consumption of fuel,
High productivity,
Increased resistance at tear,
Easily adaptable at different operating conditions.
Band construction
– helical blade (1) and breast blade (2)– BELLOTA
– share (3) with chisel (4). – BELLOTA
– additional blade(5) – BELLOTA
– field board (6) – BELLOTA
  Band protection with shear bolt
Transport wheel and adjusting the working depth
Is mounted on a special support with axis and serves for adjusting and maintaining of the working depth and moving of the plough in transport position (only at PR PO 5).
Plough transition from working position to transport position is made very quickly by one person. This mechanism permit movement forward and back.