Description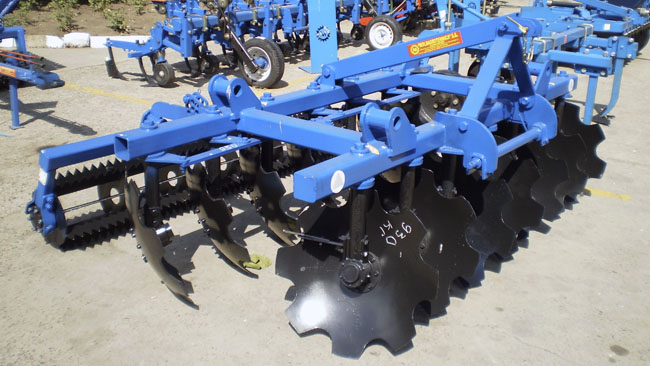 Harrow type D-2.4 is designed for all types of soil for disking to a depth of 10 to 20 cm. The design of D-2.4 allows you to block design through the universal coupling "TerraLift", which allows unitization of 2 harrows simultaneously, providing a working width of 5 m.
Description D-2.4
Harrow D-2.4 absorbed all the technological and structural advantages that have modern disc harrows have. Harrow D-2.4 meets all the operational requirements and allows operation with that harrow not only in Republic of Moldova but abroad as well.
Constructive part:
The main working bodies of the harrows are discs.
Harrow consists of two rows of discs, each of which has an independent bearing assembly and the rack. The purpose of the location of each disk on a separate counter is explained as follows:
The disc gets two angles of attack, angle in the horizontal plane adjustment (in the aisles 15 – 30º);
Due to the angles of attack we managed to get the depth of processing up to 20 cm with the load on the disc is only 65 kg per disc;
Easy maintenance;
Replacement of damaged disk or bearing unit, can be done directly in the field by one person.
Adjusting the main working body.
The basic rule of working body – is the angle of attack. For ease of adjustment, the design provides a central thrust (1), which binds together all the racks (2) in one series. Adjustment screw (3), which ensures the change in angle of attack. To avoid errors during the installation of angle of attack, adjustment mechanism includes a sector with gradation (4) and the arrow (5). The angle of attack is selected based on:
The required depth of processing;
The resistance of the soil and the power of the tractor.
The subsidiary working bodies.
Subsidiary bodies of the harrow is the modular mill, which is designed to:
dyeing clods and plant mass;
leveling of topsoil;
teeth cutters, that are situated at the level of topsoil contributes to the accumulation and conservation of moisture in the soil.
Adjusting sub-working organ.
The main control of the mill module is positioning below or above in relation to the disks. This adjustment is intended to increase or decrease the pressure on the already processed layer. Increased pressure is used when the soil is very firm and as a result of processing solid lumps are created. When processing is done in normal conditions, we can reduce the load on the mill, which helps to reduce the fuel consumption.
Advantages:
It combines the advantages of plowing with those of harrowing;
High adjustable angle of attack of the disc;
Due to the passive processing module, the processed area remains well leveled with the crushed lumps and minced plant debris;
Simplicity of maintenance.